Stencil Printers
Stencil printers from Ostling Etchmark
You can quickly and easily create your own stencils for electrolytic marking using the BRT-4 Thermal Stencil Printer along with our thermal stencil paper rolls, or the PT-D800W Stencil Printer with 18mm, 24mm or 36mm stencil tapes.
This is ideal if you want to mark frequently changing texts, or to mark only a few parts.
Thermal Stencil Printer
The BRT-4 thermal stencil printer is connected to a PC via a USB interface, allowing you to print graphics (logos), symbols, barcodes and DataMatrix codes. It can be driven from any program as a printer, but also comes with its own convenient, intuitive software.
The thermal stencil printer cuts the finished template automatically to the size you set, then simply take this stencil to your marking station.
The Ostling thermal stencil roll size suitable for this machine is 100 mm x 100 m, although we can manufacture this material in many different widths.
Thermal stencil printer
Technical data: Thermal Stencil Printer

Connection
USB
Dimensions (BxTxD)
170 x 215 x 155 mm
Print resolution
360 dpi
Stencil tape
100mm x 100m
Power supply
integrated power connection
PT-D800W stencil printer
Design and print durable labels using the graphic display and professional keyboard, or from your PC, Mac, smartphone or tablet. This feature packed labelling machine with integrated Wi-Fi prints durable labels up to 36mm in width.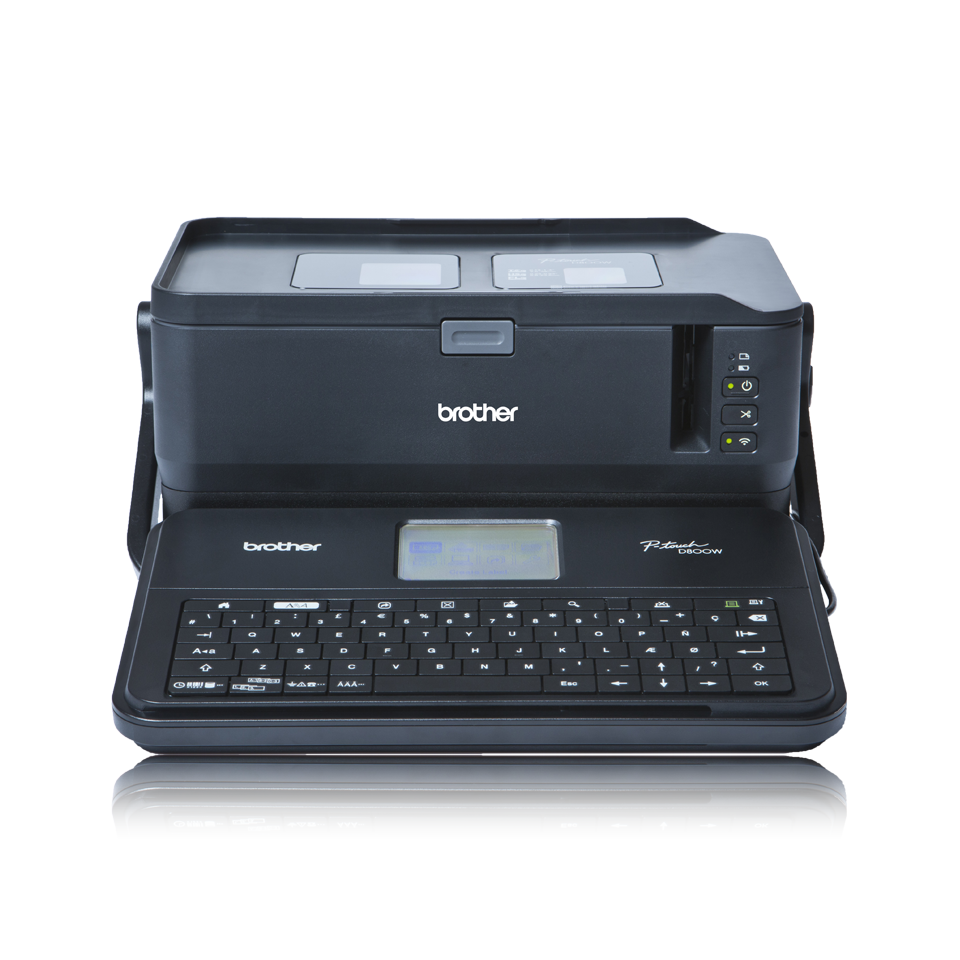 PT-D800W stencil printer
Technical Data: PT-D800W

Machine Type
Desktop, PC connectable
Display
Backlit LCD
Connection
USB, Wi-Fi
Dimensions (BxTxD)
337mm (W) x 188mm (D) x 173mm (H)
OS Supported
Windows 10, 8, 7, Vista, Mac OS X 10.11.x/10.10.x/10.9.x/10.8.x/10.7.5
Stencil tape
3 widths (18, 24 and 36 mm)
Image type suported
DIB, GIF, ICO, JPG, PNG, TIFF, WMF
Label orientation
Horizontal, Vertical
Text alignment
Centre, Justified, Left, Right
Type styles

Bold, Invert, Italic, Normal, Shadow, Shadow light, Surround
Fonts
14 (on the device) + all integrated in the PC TrueType fonts
Memory locations
99
USB interface
USB 2.0, 3.0 Full Speed (Windows), USB 2.0 Full Speed (Mac)
Please contact us for more information or sample stencils.